So, let's get back on track and do another month's/s' Haul.
For more information on why the schedule over the last couple of months have been quite iffy click HERE! and HERE!
Okay! Let's do this!
---
---
Alright, let's start off at the always amazing shop; AMAZON.
I bought quite a few things in the months of September and October.
The first being the book Thirteen Reasons Why by Jay Asher that I have reviewed HERE.
Price; £5.24
Why did you buy this?!
I've always seen this book over YouTube being talked about; raved about; reviewed, and I've heard my friends talk about it too.
Every time I went into a bookstore or onto Amazon this book was always there and just staring at me. I postponed buying and reading it for a while, but then after a while I just gave into the temptation and I'm so glad that I did.
What the hell is this?!
Here's the description on GoodReads;
You can't stop the future. You can't rewind the past. The only way to learn the secret. . . is to press play.

Clay Jensen doesn't want anything to do with the tapes Hannah Baker made. Hannah is dead. Her secrets should be buried with her.

Then Hannah's voice tells Clay that his name is on her tapes– and that he is, in some way, responsible for her death.

All through the night, Clay keeps listening. He follows Hannah's recorded words throughout his small town. . .

. . .and what he discovers changes his life forever.
I recommend you pick up this book…
Secondly I bought the Suicide Squad Soundtrack.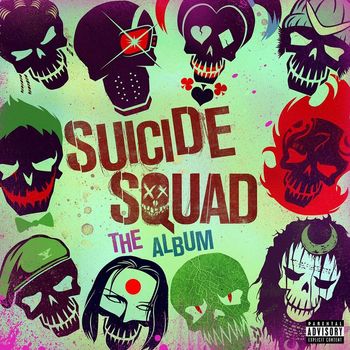 Price; £9.99
Why did you buy this?!
As most of you regulars know I LOVE all things DC Comics, especially my Harley Quinn and Joker!
So of course when they made a film that included two of my most favourite characters I had to get as much stuff related to it as I could! And that included the soundtrack to the film Suicide Squad.
Honestly, I haven't seen the film yet, but the clips that I've seen of it, I love! I know that most people are not so keen on the film, but the things that I've seen I genuinely enjoy to watch so I don't think it's as bad as everyone says. At least, not at the moment.
I'm still working on getting some more of the memorabilia to the film and the Harley Quinn/ Joker couple, but I will one day have my collectables and merchandise.
What the hell is this!?
It's the soundtrack to the film Suicide Squad!
And now we get to the HALLOWEEN part of the Amazon Haul.
So, I went to two Halloween parties this month.
The first party was a Disney Themed party, but of course I have been so busy with work that I haven't been able to go properly shopping for a Disney costume, and all of the ones that I came across on Amazon were too much out of my price-zone. So! I went for a Disney compromise…
I went as the Second Star to the Right and Straight on till Morning…
Yes, I went as a star… so of course I had to buy some gold shimmery things.
Here's what I bought to become The STAR.
NYC Metallic Liquid Eyeliner, Liquid Gold.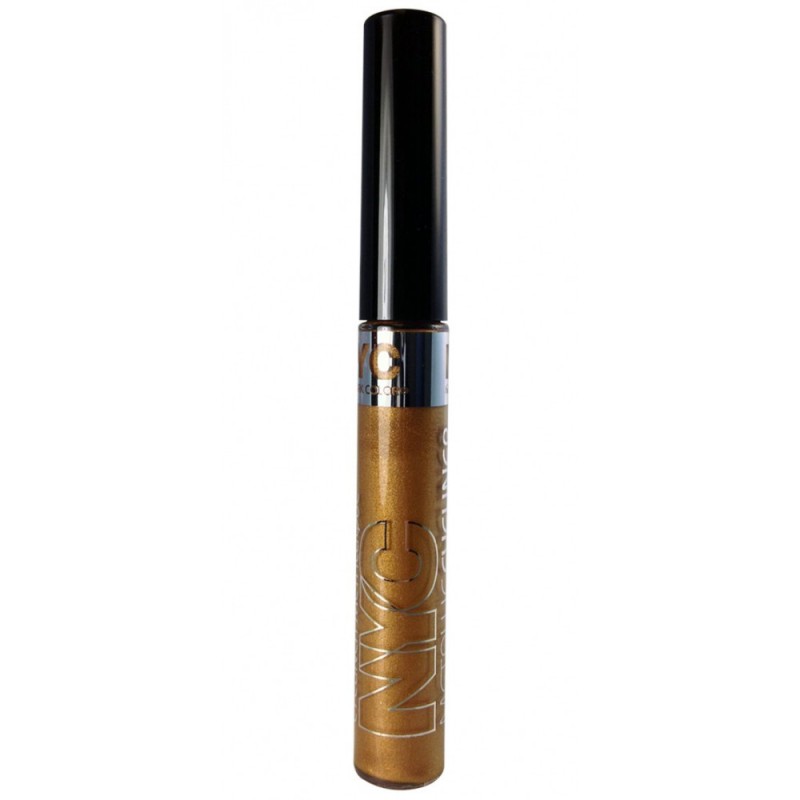 Price; £2.50.
What the hell is this?!
This is a gold eyeliner.
I also bought Sienna X Shimmer Spray Gold.
Price; £3.50
What the hell is this!?
This is a gold shimmer spray. It's a subtle shimmer but it did the trick and I will definitely use it again.
And Colourpop Ultra Metallic Lip – Lights Out.
Price; £14.50
What the hell is this?!
This is a COLOURPOP LIPSTICK! I have been wanting to get one of these for ages and now I have one. And, it's gold. And it's metallic. And it's PRETTY!
And that's all I bought on Amazon!
---
Now… seeing as we were talking about my Star Costume, we'll move on to New Look which is where I bought the rest of my costume… well… my mum helped me with the money for this one admittedly.
First, I bought the dress; GOLD METALLIC PLEATED SLIP DRESS.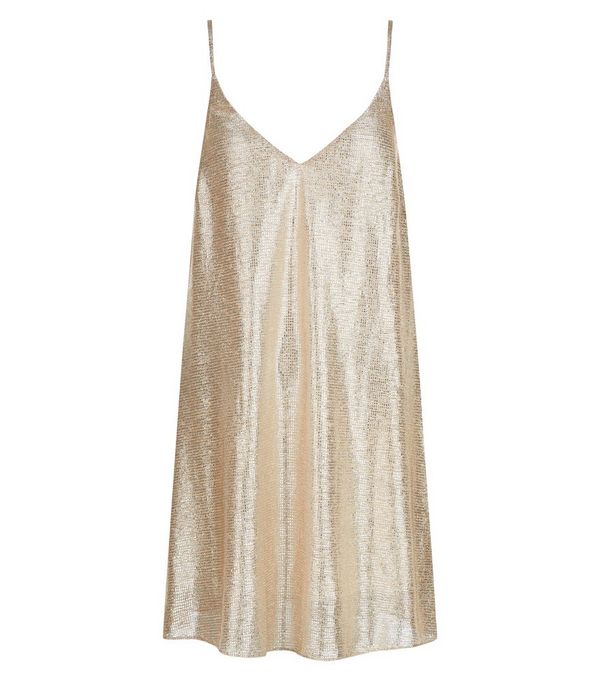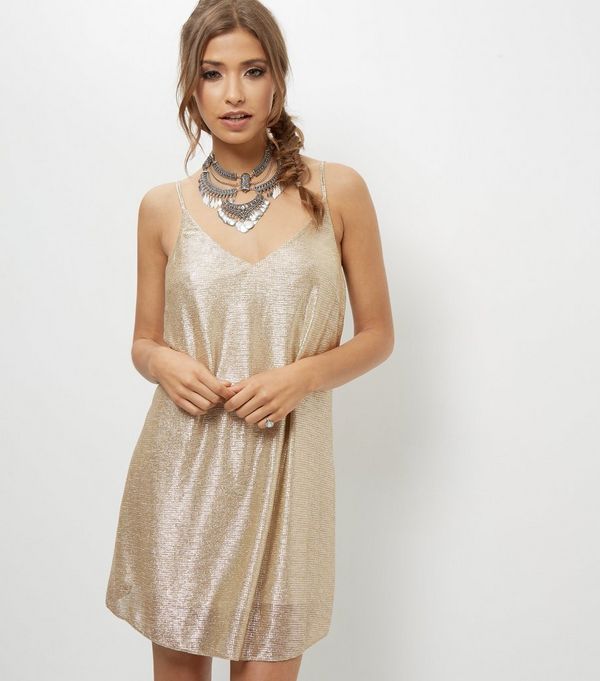 Price; £24.99
What the hell is this?!
This is the gold dress that I bought for my costume.
I love it. It's so comfortable. It's so PRETTY! Gold is starting to become one of my favourite colours…
Then, I bought accessories.
Firstly I got a Gold Filigree Disc Necklace.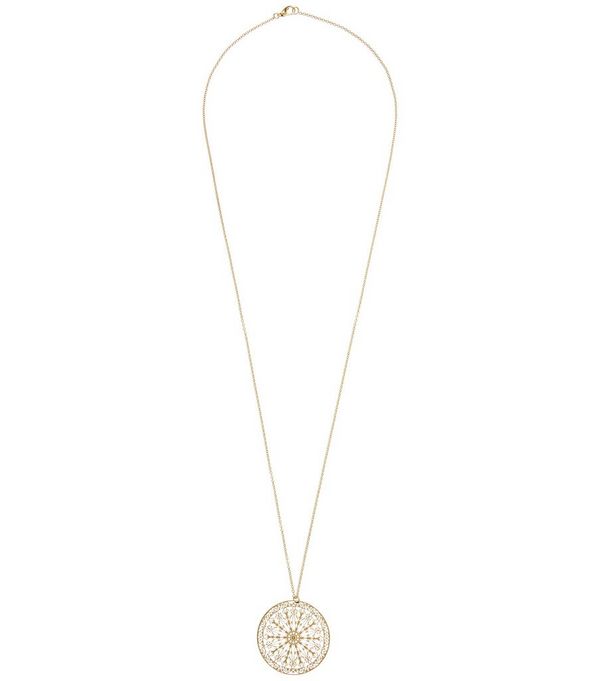 What the hell is this?!
It's a necklace that is gorgeous.
And the last accessory I bought was a Gold Shimmer Star Headband.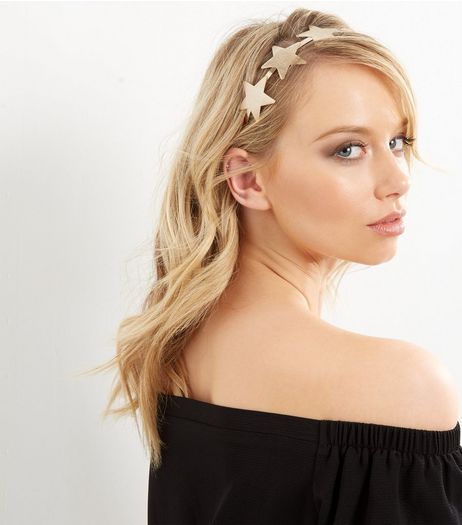 What the hell is this?!
It's a gold headband with stars on it because… y'know… I'M A STAR!
---
For my second costume I went to Boohoo.com for a dress…
So, here's the dress…
It's the CONNIE RIBBED CURVED HEM BODYCON DRESS.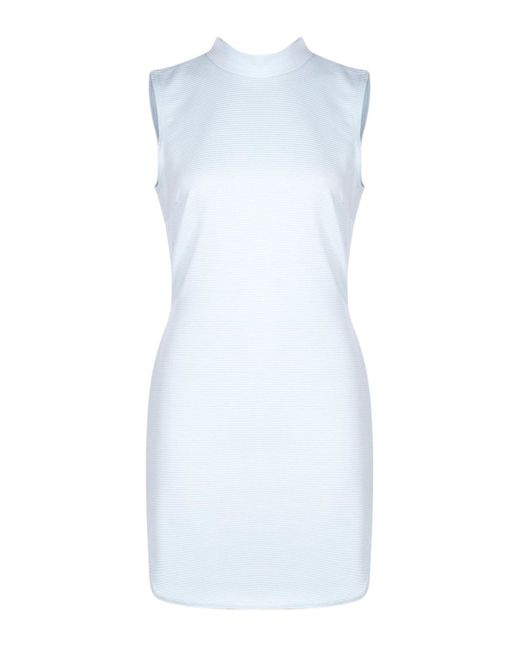 Price; £12.00
Why did I buy this?!
I planned on going as a 70s Princess, but realised that I didn't have a coloured dress that I could use so I chose to buy one from the trusty Boohoo.com store.
What the hell is this?!
It's a sky blue dress!
---
Okay, let's move on from the Halloween costumes and go back to the Haul…
These last couple of months I also went to HMV.
I think I only went once which is INCREDIBLE on my part…
I only bought two things here.
The first thing was Parks and Recreation Season One and Two Boxset.
Price; £12.99
Why did you buy this?!
I've only watched the first couple of episodes of season one and clips of the show on YouTube, but what I've seen I LOVE! So I had to buy the first couple of seasons.
What the hell is this?!
Here's the description of HMV;
The complete first two series of the US comedy following the schemes devised by members of the parks department of Pawnee, Indiana, to improve their town. Amy Poehler stars as Leslie Knope, the ever-cheerful bureaucrat whose ultimate ambition is to become president, but in the meantime occupies herself with the slightly less heady demands of her current job. The show also stars Rashida Jones, Aziz Ansari and Nick Offerman. 
It's such a funny TV Show that set like a documentary. The humour is subtle and you really have to watch it to catch all of the humour, but I really enjoy it.
The second thing I bought was Ratchet and Clank (PS4).
Why did you buy this?!
I recently got my hands on a PlayStation 4 thanks to my cousin.
His wife recently gave birth to twins so he gave me his console as he says that he no longer has time to play it.
Sad for him, but Yay for me!
What the hell is this?!
Ratchet and Clank was first made in 2002 for the PlayStation 2. It's a sci-fi game that follows the characters Ratchet and … you guessed it, Clank. Recently, they've done an updated version of the game for the PS4 which I was very excited for, but when it came out I only had an XBox 360, so was unable to purchase and play it.
Now that I have a PS4- until my cousin wants it back that is – I can buy the games that I've missed out on because of only owning an XBox.
---
Now for the trusty Waterstones…
When don't I go to Waterstones?!
I've bought 3 things at Waterstones this months… I know… I did pretty well.
The first things was Replica by Lauren Oliver.
Price; £14.99
Why did you buy this?!
Lauren Oliver is one of my favourite authors. I reviewed her book Vanishing Girls HERE if you would like to check it out.
When I heard she had a new book being released I HAD to get it as soon as I got paid, which is what I did. Of course!
What the hell is this?!
Here's the description on GoodReads;
From Lauren Oliver, New York Times bestselling author of Before I Fall and the Delirium trilogy, comes an epic, masterful novel that explores issues of individuality, identity, and humanity. Replica is a "flip book" that contains two narratives in one, and it is the first in a duology. Turn the book one way and read Lyra's story; turn the book over and upside down and read Gemma's story. The stories can be read separately, one after the other, or in alternating chapters. The two distinct parts of this astonishing novel combine to produce an unforgettable journey. Even the innovative book jacket mirrors and extends the reading experience.
Lyra's story begins in the Haven Institute, a building tucked away on a private island off the coast of Florida that from a distance looks serene and even beautiful. But up close the locked doors, military guards, and biohazard suits tell a different story. In truth, Haven is a clandestine research facility where thousands of replicas, or human models, are born, raised, and observed. When a surprise attack is launched on Haven, two of its young experimental subjects—Lyra, or 24, and the boy known only as 72—manage to escape.
Gemma has been in and out of hospitals for as long as she can remember. A lonely teen, her life is circumscribed by home, school, and her best friend, April. But after she is nearly abducted by a stranger claiming to know her, Gemma starts to investigate her family's past and discovers her father's mysterious connection to the secretive Haven research facility. Hungry for answers, she travels to Florida, only to stumble upon two replicas and a completely new set of questions.
While the stories of Lyra and Gemma mirror each other, each contains breathtaking revelations critically important to the other story. Replica is an ambitious, thought-provoking masterwork.
Does that sound amazing?! I'm so excited to read it.
The next book is And a Happy New Year…? by Holly Bourne.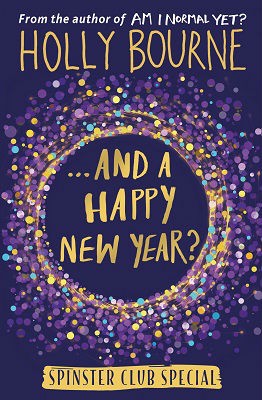 Price; £7.99
Why did you buy this?!
I am also a BIG fan of Holly Bourne. I have read almost all of her books and love every single one!! I have done a review on her book What's a Girl Gotta Do? Which you can read HERE! And I have also done a review on her book How Hard Can Love Be? Which you can read HERE!
The Spinster Club Series is brilliant and is everything I love in a book; feminism, geekiness, romance, friendship, girl power, the lot! I love it. When Holly Bourne announced that she was writing a Novella to join her series I was over the moon, and had to pick it up as soon as I could!
What the hell is this?!
Here's the description on GoodReads;
Evie, Amber and Lottie are having a new year party to remember.

For the first time since leaving college, all three girls are back together. It's time for fun and flirting, snogs and shots.

(And not tears or tantrums or terrible secrets)

Because everything's going great for these girls – Spinster Club for ever! Right?
I can already tell that I'm going to be in TEARS by the end of this book!
The third thing is something that my boyfriend Ollie got for me…
It is Harley Quinn's Greatest Hits.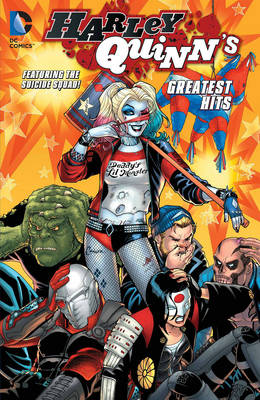 Price; £8.99
Why did you buy this?!
Do I really have to explain my love for Harley Quinn again?! Because I'm sure I do in almost EVERY HAUL POST!
See how pretty she is!
My boyfriend knows my obsession with the character because minus the murdering side of her, she is very much me. I would die my hair platinum is I could and have dip-dyed pink and blue or red and black hair if I could. I think she is truly an amazing character.
What the hell is this?!
Here's the description on GoodReads;
Get ready for this summer s most anticipated movie SUICIDE SQUAD with the comics that inspired the film, including fan-favourite character Harley Quinn!!
Love makes you do crazy things. And Suicide Squad member Harley Quinn is madly in love.
After springing her psychotic killer boyfriend, the Joker, from Arkham Asylum, former psychiatrist Harleen Quinzel put on a clown costume and said sayonara to sanity. Now Harley brings her own unique brand of psychosis and revelry to whatever she does, whether it s causing mayhem alongside her beloved Mistah J., saving the world as the nuttiest member of the Suicide Squad, or relaxing with her gal pals Poison Ivy and Catwoman. With her deranged mix of fear and fun, she knows how to leave a crowd in stiches!
HARLEY QUINN S GREATEST HITS collects eight of the lovesick lunatic s best stories from such talented writers and artists as Paul Dini, Bruce Timm, Jim Lee, Jeph Loeb, Amanda Conner, Jimmy Palmiotti, Scott Snyder and more.
Collects BATMAN ADVENTURES #12, BATMAN #613, COUNTDOWN #10, GOTHAM CITY SIRENS #7, SUICIDE SQUAD #1, BATMAN #13, HARLEY QUINN #21 and HARLEY QUINN AND SUICIDE SQUAD APRIL FOOL S SPECIAL #1."
I'm so excited to read this!!
---
The last thing is a present from my boyfriend for our year anniversary, and for that we went to the Disney Store in London.
He bought me a Stitch!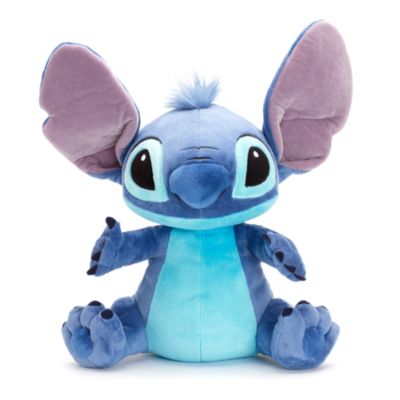 £19.99
Why did you buy this?!
Stitch from Lilo and Stitch is one of my all time favourite Disney characters. He's just so warm and loving and nuts! I love him. When Ollie and I went into the Disney store, we came in looking for a plush Stitch, and we definitely left with one.
He's now my huggle-buddy when my boyfriend is away.
What the hell is this?!
It's a STITCH!
---
---
That's everything that I got these last couple of months.
I hope you've enjoyed the post and I'll see you all in the next one…
Happy Shopping everyone!!