So, I was just lying in bed today writing/editing the sequel to my book when it dawned on me…
It's the 28th of August! There are only 3 full days left until September…
WHAT?!
That is truly terrifying. The year is FLYING passed… but I guess that means that it's time for another monthly haul post.
So, let's tell you what I've been buying…
---
---
Okay, so since July I have been given a task to not spend over £15 on my debit card, and only use cash if I can help it, by my parents, boyfriend and friends. I am a serious money spender. I love buying new things so much that it's hurting my bank account so I had to cut down on my spending this month, and a couple of more months until I get a stable job with regular income.
Okay, so apart for the fish and chips meal with my boyfriend, and the cheeky Starbucks or two, I've done pretty well with the change that was in my purse – even if that was all in 5p coins.
So, let me tell you what the first thing I bought was…
So, at the end of July once I got back from America, I went into my local WHSmith and pre-ordered Harry Potter and the Cursed Child.
Yes I know that counts as me buying it in July, but I picked it up in August, so I'm saying that it counts for this month's haul.
Why did you buy this?!
I have been a Harry Potter fan since I was 3 years old.
I grew up with the books and the films. They were my childhood and I love everything about Harry's story and the world that I just couldn't not pick up the script for the new Harry Potter play.
What the hell is this?!
I'm pretty sure most people know what Harry Potter is, but for those of you who are not too sure what the synopsis for this tale, I will give you the description found on GoodReads:
Based on an original new story by J.K. Rowling, Jack Thorne and John Tiffany, a new play by Jack Thorne, Harry Potter and the Cursed Child is the eighth story in the Harry Potter series and the first official Harry Potter story to be presented on stage. The play will receive its world premiere in London's West End on July 30, 2016.

It was always difficult being Harry Potter and it isn't much easier now that he is an overworked employee of the Ministry of Magic, a husband and father of three school-age children.

While Harry grapples with a past that refuses to stay where it belongs, his youngest son Albus must struggle with the weight of a family legacy he never wanted. As past and present fuse ominously, both father and son learn the uncomfortable truth: sometimes, darkness comes from unexpected places.
All you need to know about my opinion on this book you can find HERE.
Let's just say… the fact that its not SOULY written by the Queen, JKRowling herself, just proves what it's going to be like.
---
I did pretty well since then, making sure to not buy anything when out and about.
I was pretty sure that this month's haul was going to be a lame and boring one with nothing to write about but Harry Potter.
BUT ALAS!
My friend, my boyfriend and I took a little unexpected visit to our closest Forbidden Planet.
THE PLACE FOR ALL THINGS NERDY!
I love this shop. It is one of my FAVOURITE shops in the UK and if I could, I would buy literally everything they had in stock.
So, what did I buy?
I whole lot of comics.
Now, I know what you're thinking.
Comic Books are expensive and buying a lot would surely be too much for your buying hiatus… nope!
They were selling packs of 3-4 comics, for only £2 each!
All of the comics were blind-bagged, so I had no idea what comics I was getting except for the one at the front of the pack. 
(For those who follow me on Twitter, you would have seen me raving about this deal)
I got a total of 15 comics, so sit tight while I tell you all about them!
Why did you get these?!
I am a huge comic book nerd, and the more comics/graphic novels/books I have the better. They give me something to focus on, new stories to get involved in and something new to talk to others about when they ask me for reading tips and advice.
I love helping others get into fiction and reading, and I think comics and graphic novels are just as valid to help as paperback or hardback novels.
…
1.
The first comic I have here in my pile of comics is The Discipline by Peter Milligan, Leandro Fernandez, Cris Peter and Simon Bowland.
After opening this up, I realised that this was volume 2 of The Discipline so I will definitely need to pick up Volume 1 or the whole collection once I've read this to understand the whole story, but I was expecting this when buying the packs.
What the hell is this?!
I frankly, have no idea! Why would I? It was a mystery in the first place.
Here is what I found off of Amazon for Volume 1:
"Superhot duo MILLIGAN and FERNANDEZ' controversial story of sex and metamorphosis. When frustrated Manhattan wife Melissa Peake allows herself to be seduced by a mysterious stranger, she is drawn into an ancient war between The Discipline and the creatures known as The Stalkers…and must discover hitherto unimagined potential within herself to survive. But at what cost? Whatever you've heard about it, won't prepare you for…The Discipline. Collects issue 1 through 6"
When I picked this up, it was in a pack that had an 18+ label on it so I would have to advise you all to please stick to that rule.
It seems to involve sex, monsters and sci-fi. Pretty exciting!
2.
The Darkness Hope by Charlie Harmon, Daniel Dwyer ad Chris Northrop.
Just by the cover of this, I was excited to read it! I will admit. And the art style looks so cool and edgy.
When looking up about this comic, it seems as if it's quite difficult to get in a paper copy. On Amazon it's only sold on kindle or digitally. I'm not sure whether there's more to this story or not, but will definitely keep my eyes out.
What the hell is this?!
This is what I found on Amazon:
"In the future, Hope Estacado is a crusading science reporter and her father Jackie, the "World's Greatest Hero," has retired to the suburbs to live out his golden years in quiet contemplation. Hope's about to make a discovery that will shake her to her core—a discovery that will have dark ramifications for the entire human race—and Jackie might be the only one who can help."
3.
Bitch Planet no. 8 by  by Kelly Sue DeConnick and Valentine De Landro (Illustrator)
Now, I have been meaning to pick up Bitch Planet for a while and now, after reading this which is volume 8, I have to start from the beginning and read. them. all! I have to buy the full collection.
What the hell is this?!
Here's what I found on GoodReads:
"Are you non-compliant?
Do you fit into your box?
Are you too fat, too thin, too loud, too shy, too religious, too secular, too prudish, too sexual, too queer, too black, too brown, too whatever-it-is-they'll-judge-you-for-today?
You may just belong on…
Bitch Planet"
YAS! I need to get me more of this comic.
4.
Street Fighter VS GIJoe vol.2 by Sitterson, Laiso and Cruz.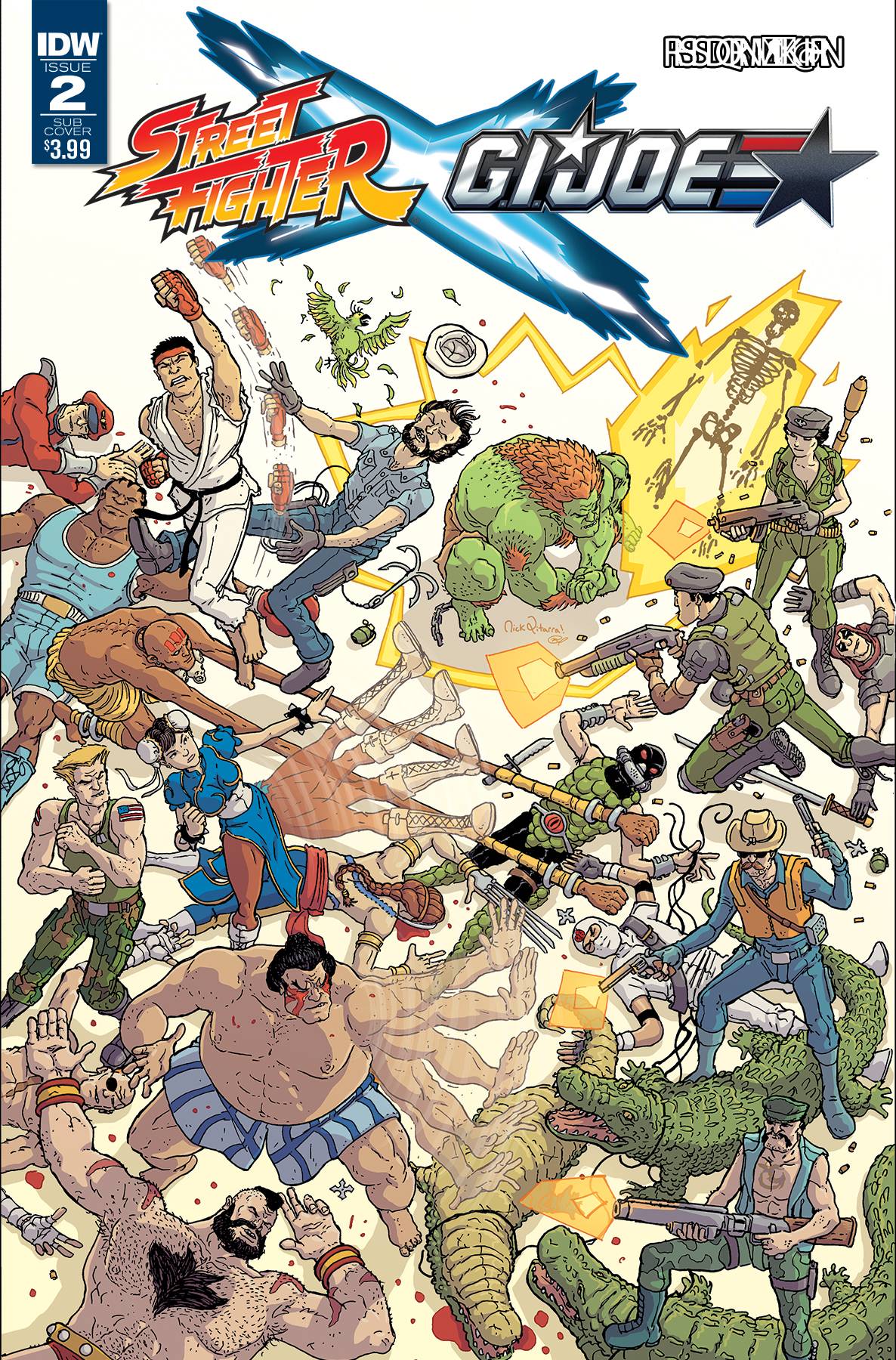 Okay, so I will admit that this comic was at the front of the pack so I saw that I was going to buy it, but come on! Do you really blame me for picking this up? Do you? This is incredible!
What the hell is this?!
Good question me, good question…
Here's what I found off of the Forbidden Planet website for volume 1:
"On a hidden island in international waters, 16 combatants enter a secret tournament one that pits Street Fighter vs. G.I. JOE!

M. Bison and Destro have joined forces, and taking them down will require the world's finest warriors: Ryu, Snake Eyes, Guile, Scarlett, Chun-Li and Duke."
It sounds amazing!
5.
Wacky Raceland by Ken Pontac.
I'd never heard of this before if I'm honest…
Seems cool though!
What the hell is this?!
Here's what I found off of Forbidden Planet:
"The world has ended, but the race has just begun! Penelope Pitstop, Peter Perfect and the rest of the Wacky Racers vie for the finish line in a contest where the winner takes all and second place is death.

Today's trial: the shattered maze of freeways known as the Überpass, where they're beset by giant sand beasts, mutated insects, and worst of all, Dick Dastardly's murderously poor sportsmanship. The last thing they need after surviving the race is a brutal bar fight in a local dive, but that's just what they get!"
6.
The Twilight Zone: The Shadow vol.2 by David Avallone.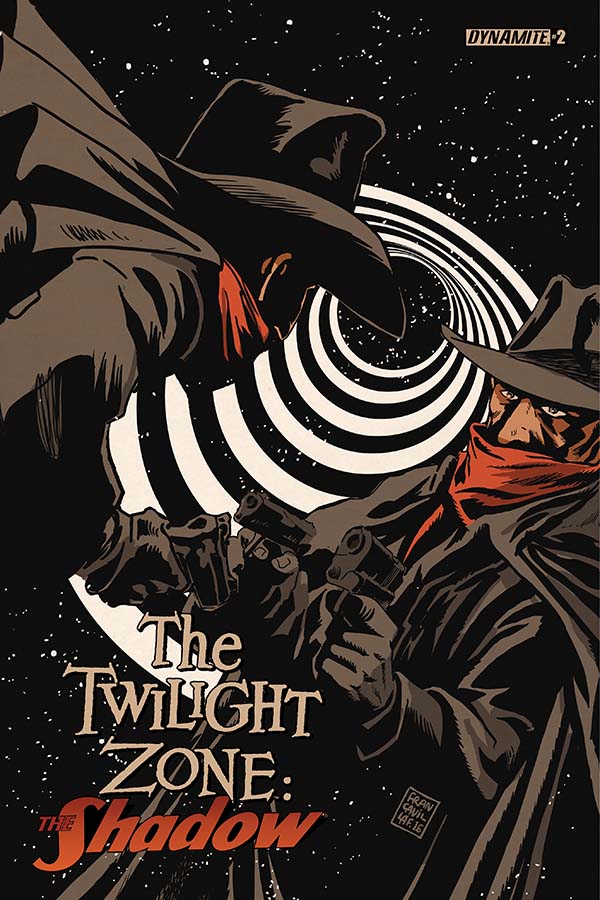 Of course I've heard of The Twilight Zone, but don't know much about it at all so I was very pleased to have received this in one of the packs.
Very excite to check this out and give it a read…
What the hell is this?!
This is the description I found off of Forbidden Planet:
"Picture if you will: in your own world, you're a fearsome crime fighter who stalks the night. But you wake up today in another world, where the fearsome crime fighter is just a character you play in a radio show that bears his name.

You are no longer a man with a mission, just a 22 year old prodigy with an impressive voice, and a lot of questions… an honored guest who has been invited into… the Twilight Zone."
7.
Grimm Fairy Tales: Wonderland vol.48 by Erica J Heflin.
Okay, so this is an obvious 18+ just by the cover! That's why I shrunk the image down a bit, as I'm trying to keep this blog as PC as I can manage, but also don't want to leave anything out that's necessary to the post.
What the hell is this?!
…is something my parents would probably ask if they ever saw me reading this comic…
Here's what I found off of Forbidden Planet:
"Tweedle Dee and Tweedle Dum take Violet and Calie captive!

Ravaged by the Tweedles' madness, they are given the choice to starve to death or eat the ones they love. Calie and Violet put everything on the line to escape and save the victims, but are these cannibals already beyond redemption?"
Now… I have no idea who Violet or Calie are, but just by the description, I'm very intrigued and want to read this series from the start…
Yes I know, it looks very raunchy and sexy in places, but its still looks interesting!
Sorry family, but I'm interested in what the Grimm Fairy Tales: Wonderland series have in store, story wise!
8.
Jupiter's Legacy 2 issue 1 by Mark Millar and Frank Quitely.
What the hell is this?!
No idea, but it looks awesome!
This is what I found off of Forbidden Planet:
"IT'S HERE! The sequel to industry sales-beast JUPITER'S LEGACY is back and it boasts monthly FRANK QUITELY!

Superhero offspring Hutch and Chloe have come out of hiding with son Jason to assemble a team of super-crooks from around the globe."
Okay… so this is a sequel to something I haven't read before… I feared I had this problem but seeing as this is just issue 1, I'll give it a read and if I like what I see then I'll pick up the first comic so I actually know what the hell is happening!
9.
Batman vol.45 by Scott Snyder.
This may be vol.45, but I keep up with the Batman universe a lot as it is one of my favourites!
What the hell is this?!
Here's what I found off of Forbidden Planet:
"When Batman almost gets taken out by a new threat, Jim Gordon might have to reevaluate what it means to wear the cowl before it's too late for Gotham City!"
New threats! Gotham City under attack again?! Pretty standard day for Batman!!
10.
The Astonishing Spider-Man vol.37. (I can't find who it's by)
What the hell is this?!
I couldn't find a description for this comic anywhere, so frankly, I can't tell you what it's about or anything about it. All I can tell is that it's a Spider-Man comic with Agent Venom an the monster avengers involved which sounds cool! Other than that I have no idea…
11.
Civil War II 001 by Dan Abnett.
This one looks SO COOL! I can't wait to read it!
What the hell is this?!
Here's what I found off of Forbidden Planet:
"The world is on the brink of chaos, with heroes on all sides of the war… but when only the best are called into action, where will the world's first super hero land?

Join us for an all-new epic Civil War II series that takes Hercules right to the front lines! As a God, is he responsible for a larger roll in the potential destruction of the Marvel Universe? Or does he have the power to alter fate?!"
Sounds awesome huh? I know the story of Civil War (The first one) but never properly owned a copy of it so I will need to get my hands on it.
So excite!!
12.
Grizzly Shark vol.1 by Ryan Ottley.
This has to be one of my new favourite comics! It is ridiculous and I love it! I have to get volume 2 as soon as possible!!
What the hell is this?!
I was wondering too when I opened up the pack and found this…
Here's what I found off of Forbidden Planet:
"The sold out, cult hit black-and-white issue is back, now in full color!

Followed by all-new issues that continue the bloody adventures of the world's most feared animal, the Grizzly Shark!"
So to summarise. This is the tale about a shark who lives in the trees and eats people whenever it smells blood.
If that doesn't sound amazing, yet terrifying for reality, I don't know what does?!
13.
Merry Men #1 by Robert Rodi.
What the hell is this?!
Here what I got off of Forbidden Planet:
"13th century England. Robert Godwinson, former lover of King Richard, lives with his band of Merry Men in Sherwood Forest, away from the watchful eye of Prince John, who has outlawed homosexuality. Though isolated, the men live in peace-that is, until a stranger approaches their camp asking for aid to a nearby town under siege by the Sheriff of Nottingham. Robert-nicknamed Robin-is reluctant to help, but equally eager to get rid of this perplexing stranger… and to put his formidable bow-and-arrow to use. It's Robin Hood like you've never seen him before, based on scholarly speculation about what's really behind the outlaw's legend."
I didn't know what I was going to think when I saw this comic, but after reading it, I actually learnt a lot as well as reading an awesome story! I would recommend lovers of History or/and Robin Hood to pick this up and give it a read.
14.
Doctor Strange 001 by Jason Aaron.
Although I know about Doctor Strange in regards to Deadpool, I've never really heard much about his own story so was intrigued when I pulled this out of the pack.
What the hell is this?!
Here's what was on Forbidden Planet:
"Who do you call when things are coming out of your dreams and trying to kill you? Or when your daughter is cursing in Latin and walking like a spider? Or when your dog keeps screaming at you to strangle your neighbours?

Doctor Strange, of course. He's the only person standing between us and the forces of darkness, but has he been paying his tab? Every act of magic has a cost and Jason Aaron (THOR, ORIGINAL SIN) and Chris Bachalo (UNCANNY X-MEN) are going to put Stephen Strange through hell to even the scales."
15.
Army of Darkness: Furious Road #2 by Nancy A Collins.
Now, I didn't know anything about this comic, but my boyfriend was very excited when I pulled this out so he has it at the moment before I can read it. I will get it back though. I will! I will read it!
What the hell is this?!
Beats me… but here is what's on Forbidden Planet's website:
"Twenty years from now, the world has fallen to the Deadite invasion.

The remains of civilization is holed up in what was once the city of Lansing, Michigan – now renamed simply 'Alive.' It is up to the Chosen One, the Keeper of the dread Necronomicon Ex Mortis, a.k.a. Ashley 'Ash' Williams, and a rag-tag group of humans and monsters – including the Daughter of Dracula, Frankenstein's Monster, and the witch Heckuba – to save humanity and send the Deadites back to Hell. But to do that, they must first battle their way past Ash's evil twin, The General, and his demonic Army of Darkness with the help of a werewolf biker gang, Dracula and his Brides, and Ash's custom Murder-Mobile."
Sounds awesome!!
---
---
So this has been my haul for August 2016, I hope this haul showed you some new stuff to go and check out.
Do leave me your opinions on the comics and tell me if you want me to review any of them down in the comments.
Until next month!!