Monday:
Thankfully for me, I get a four day weekend which means that for the time being, Mondays are a lazy day for me. All I have to do is go to the doctors – usually in the afternoons – sleep, write, read, game, anything I fancy doing. That also involves me having to leave the house for only ten to thirty minutes at a time, sooooo, I'm not really going to put on a full face of makeup today.
As I usually do when I only have to go to the doctors is wear eye makeup – my love.
Products I used:
Eyeliner: Studio Lash The Miaoww Look Eyeliner – £2.99
I really do like this eyeliner! The pen is just right for application to get the perfect winged eye. I can get such a neat, thin line with this product. The ink itself doesn't seem to crisp away or fade during the day. I really like this product!
But…
Please write in the comment below those of you who also have this product… Does yours also smell of piss?
As in the ink itself. The pen smells fine, but as soon as I open the lid I get a strong smell of piss from the pen… I don't know if I just have a faulty eyeliner, but it really puts me off using the product as it's really good! Once the eyeliner is applied, the smell is gone, it's literally just the pen the smells…. Weird.
For that…
Rating: 3/5
Mascara: SEVENTEEN Va Va Voom Mascara – £6.29 
You guys know my thoughts on this beauty. Check out Last Week for the Review of this product.
Tuesday:
Now I wasn't that keen on the look I gave myself, but I was in a hurry to get ready for a busy day ahead.
So busy that I had two looks today.
I had two exams today – ballet and singing – so I made sure to do my eyes briskly and then slap on some red lippy. I don't think – personally – my eye makeup matches my lips today, but you guys can be the judge of that.
Products I used:
Face:
(If some of these product don't have reviews, it means that the reviews can be found in Last Week's Lookbook)
Primer: POWERED BY WITCH MATTIFYING PORE MINIMISER – £4.99 
I like this product. It does what a primer needs to do… but it's very oily to touch. It has a smooth, soft feel however and feels pleasant on my skin, but had a very oily texture to it.
The fact that Collection have partnered up with Witch for this product, means that I like to put this primer on my blemishes, knowing that they will clear by a day or two depending on how big they are. It however, does not minimise pores. I feel that the product is just too thick to get into the pores, sadly.
Rating: 3/5
Foundation: MAC Cosmetics PRO LONGWEAR SPF 10 FOUNDATION NC20 – £25.50
Concealer: MAC Cosmetics Pro Longwear Concealer NW20 –  £17.50
Powder: Collection Sheer Loose Powder, 2 Translucent – £2.99 
Bronzer: So Matte Perfect Stay Pressed Powder – £3.49 
Now I know what you're thinking…
"But this is a Pressed Powder?!"
Yes, I know that but when I went to the shop in search of a pressed powder, I found little Miss Sporty here that was good and affordable. I was in a rush and took the lightest shade, which is what I usually have to reach for anyway.
The next day when I was applying my makeup I realised that this so-called-lightest-shade, was waaay too dark for me. So, instead of throwing it away, I now use it as a bronzer. It warms up my cheeks bones/cheeks naturally and it really soft on the skin. It's very powdery though and there is a lot of fallout so make sure to tap the excess product off of the brush before applying it to the face.
Rating: 3.75/5
Highlighter: Benefit High Beam Highlighter – £19.50
Makeup Revolution London Highlighter Palette Beyond Radiance – £8.00 
Eyes:
Eyeshadow: Collection Eyes Uncovered Palettes 1 Nude – £3.99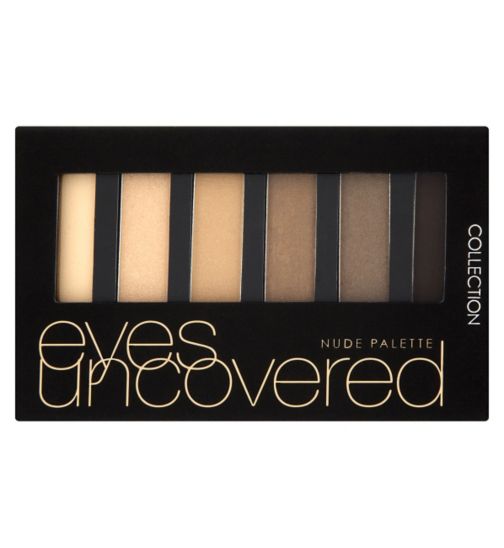 Whenever I want a natural eyeshadow look, I turn to this palette.
The darker the colours go, the more pigmented the shades seem to be but that personally, does not bother me. The formula is so soft and silky, but there is a lot of fallout so make sure to tap your brush before applying so you don't get eyeshadow all over your cheeks when applying.
For the price, it's a really good palette and something I use often, but not as much as my Revolution palettes. Sorry!
Rating: 3.75/5
Eyeliner: Studio Lash The Miaoww Look Eyeliner – £2.99
Mascara: SEVENTEEN Va Va Voom Mascara – £6.29 
Lips:
GOSH Velvet Touch Lipstick Burgundy – £6.99
I love this lipstick! It was a present from a friend.
I had never heard of Gosh Cosmetics before receiving this present, and I'm so glad I've been introduced to these lipsticks.
The formula is so creamy and easy to apply. It does rub off when drinking/eating/talking a lot, but the red usually just milds and does stay, not completely disappearing.
This shade is beautiful as well and just what I need for a deep, red lippy. So glad I received this. I wear this a tonne!
Rating: 4/5
The next look I did today was…
This look was a just more natural look as I was off for a job interview in the late afternoon. Also, my hair was extra soft and you can kind of tell in the pictures!!
My face and eyeliner was everything above, only the eye shadow and lippy were different.
Eyeshadow: Makeup Revolution Ultra Professional Eyeshadow Flawless – £8.00
Lipgloss: Max factor X COLOUR ELIXIR GLOSS Lustrous Sand – £8.99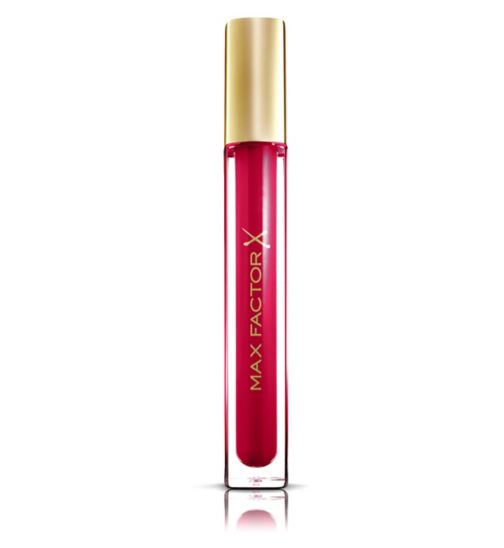 Wednesday:
Today I went to go and see my boyfriend so I made up my face like usual.
My face had all the same products as the day before, so I will just move on to the eyes and lips…
Eyes:
Eyeshadow: Ultra 32 Shade Eyeshadow Palette AFFIRMATION – £8.00
Eyeliner: Studio Lash The Miaoww Look Eyeliner – £2.99
Mascara: SEVENTEEN Va Va Voom Mascara – £6.29 
Lips:
Topshop Lip Bullet in Duvet Day – £8.00 
These 'lip bullets' are soooo creamy and comfortable to wear! The colour Duvet Day goes really well with my skin tone and is a natural, nude shade that goes well with any outfit at any part of the day.
I wear this lipstick whenever – to college, clubbing, to a party, to dinner, out on a date – it has multiple-wearable-uses.
The formula does seem to rub off a lot during the day, so whenever I wear this I tend to bring it with me everywhere I go so I can top it off occasionally. Other than that, it's a very good product and I would highly recommend. It's affordable, good quality, pigmented and comfortable to wear. It's so easy to apply.
Rating: 4/5
Thursday:
Today was a busy day for me! I had college all morning and into the afternoon, during which I had a dance exam, and then I had a job interview.
As you can tell by my photo in the car, I never really had a time to stop until I was in bed.
Again, my whole face of makeup was the same except for the bronzer, so I will put the bronzer, eyes and lips down below.
Bronzer: Bonrjois Paris Bourjois Délice de Poudre bronzing powder & highlighter – £7.99
Eye shadow: Makeup Revolution Ultra Professional Eyeshadow Flawless – £8.00
Eyeliner:  MUA Liquid Eyeliner Shade 5 – £2.00
Rimmel London Exaggerate Eye Liner 001 – £5.29
Mascara: They're Real! Lengthening Mascara – 19.50 
Lips: Natural Collection Juicy Lips Gloss Raspberry Ripple – £1.99
I love this lipgloss! I've gone through so many because they're affordable, good formula, comfortable to wear and just lip glossy! Everything you want, really.
I wore this lipgloss when I was thirteen, and am still buying and wearing these lip glosses today. I really like them.
Like most lipglosses, they rub off after a while so you need to reapply, but that's the only downfall I can think of for this product really…
Rating: 4/5
Friday:
I did have a smiley photo as well, but because of the light I looked high or just really drunk so decided not to post it.
Today, I slept until around 2, got ready for a trial day for a job, left at 4 and came home at 10:30. So didn't have much time to just sit, and definitely didn't have time to quickly take a decent picture which is why I took a sneaky couple on the Train Station Platform to my trial day.
Again, my face routine was all the same, with the most recent bronzer. My eyes used the same palette, eyeliner and mascara than the day before so nothing I haven't talked about already. I will however put the lipstick I used down below….
Lipstick: Bourjois Rouge Edition Lipstick Beige Trench- £7.99
This is such a beautiful nude lipstick, and like the Topshop Lip Bullet, I can wear it anywhere with anything.
It's matte but does not make your lips feel at all dry. It's creamy and gorgeous. It's quick to apply. It's everything you look for in a lipstick.
Although, it is easy to rub off when eating, drinking or kissing so you do need to apply it a few times a day when wearing it.
Other than that, I really like this collection and will be buying more shades to try out.
Rating: 3.75/5
So that has been my weekly makeup Lookbook from Monday-Friday. 
If there are any makeup products you suggest I try or want me to review, leave it down in the comments. I will surely give them a look. 
Tune in every week for a new weekly makeup Lookbook!