Monday:
All I did today was go to the doctors, go to the supermarket and hang around the house so I didn't really focus much on my makeup, just applying eyeliner and mascara; something quick and easy for a lazy day and little trip out.
Products Used:
Eyeliner: MUA Liquid Eyeliner Shade 5 – £2.00
Unfortunately (I guess) this eyeliner is no longer sold… I think anyway. I haven't seen it around and it is definitely no longer purchasable on the MUA site.
This eyeliner is cheap and good if you are out and about, forget your eyeliner and need to go over your eyelids at where it's faded or rubbed off, but if you want something thick and clean swept? Don't buy this. It takes multiple layers to actually look painted on at all. For the black to not look all streaked, you would find it easier to dab on the product and layer it up. For the price, it's a good product but not something you would always want to reach for.
Rating: 2/5
Mascara: Max Factor X Voluptuous False Lash Effect, Black, Waterproof – £11.99
You guys can seriously be the judge for this one…
Is it a good formula? Yes. Is it thick? Yes. Does it make you look like you're wearing false lashes? No, but really, what mascara does make your lashes look false? Maybe if I wore fake lashes with the mascara… maybe.
I do like this product, but it's quite pricey for just an everyday mascara that doesn't have that amazing outcomes. In my opinion, it's good for every day but the price is quite… meh, for what you're getting. The brush is pretty cool though, not going to lie on that one! also the packaging is funky.
Rating: 3.5/5
Tuesday:
Today I was not well, sooooooooooo, bed day for me and another trip to the doctors, but unlike yesterday I felt way too MEH to wear makeup so you're about to see my "beautiful" no-makeup-face in 3, 2, 1……………
All I used on my face today was water and moisturiser.
Products Used:
Clean & Clear Dual Action Moisturiser (Oil-Free) – £3.25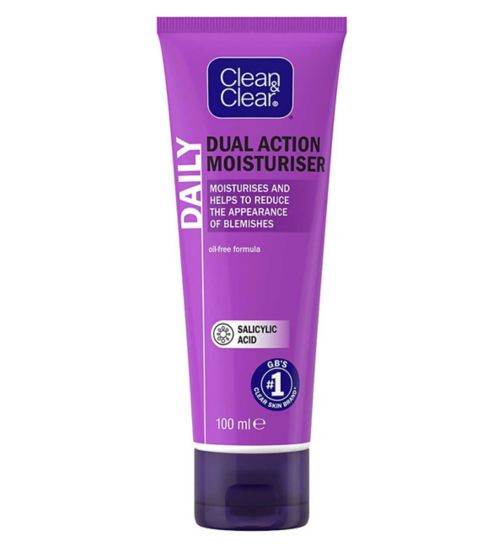 This formula is SO soft on my skin. It's oil free so doesn't make my face feel heavy and sticky after application and it absorbs quickly into the skin.
In the morning my routine is followed: Wake up (with difficulty); waste time by staring at my phone screen for ten minutes contemplating whether to get out of bed or not; get out of bed (with difficulty); shower; moisturise my face with this softy soft soft product!; dry my hair and apply makeup. Well today, I did all of that with the extra YouTube videos watched here and there, and no makeup applied as I did not get out of bed really.
This Product is so easy and quick to apply, it really doesn't need thoroughly rubbing into the skin as it seems to melt into the skin anyway. Little goes a long way with this product so it takes months before the product runs out and you have to buy a new one as you only have to squeeze out an amount the size of pea.
Plus side, it's really pretty to look at with the purple to white ombre effect… Is my Tumblr side showing? Oops…
Better to apply this product at both morning before applying makeup or doing your hair, and night before you sleep for quicker affects. It helps clear skin and moisturises – all that fun stuff. The only problem is if you accidentally skip a day, you can break out again quite quickly, so make sure to apply every day. I've made that mistake a couple of times.
Rating: 4/5
Wednesday:
Today was a very different day to the last two. It was much more eventful!
For starters, my lovely boyfriend came over to see me so I chose to glam up to hopefully make myself feel better, and just so I looked nice for him although I know he doesn't mind if I have no makeup on either. It just felt nice to look nice.
I also had my singing lesson so I wanted to look decent for that.
Products I used:
FACE:
To Prime: Clean & Clear Dual Action Moisturiser (Oil-Free) – £3.25 (look at the day before for my review of this product.
Foundation: Rimmel London Wake Me Up Anti-Fatigue Foundation 100 Ivory, SPF 15 – £8.99
This foundation is light and comfortable to wear. It matches my skin tone when I apply it fairly over my skin, but I have to admit, it only really stays on my face for a couple of hours before it either absorbs into my skin (which is very unhealthy for pores or just my skin in general), or rubs off even if I've done nothing during the day to cause it to rub off.
Here's a picture of me around four hours after I applied my makeup today…
If you compare these two shots to the ones above, you can see a major difference, most of it being that the foundation is just no longer existent on my face. In person, its noticeable that there is some foundation there, but in blotches randomly on my forehead, nose and cheeks. I had to keep checking in the mirror and blending out the product with my finger.
If you're going to an event that will only last a couple of hours then this is the product for you as it's light, but you will have to use quite a bit of the product as it takes quite a bit to cover the whole face. Personally, if you needed a foundation that'll last you the day… don't go for this one.
Rating: 3/5
Concealer: MAC Cosmetics Pro Longwear Concealer NW20 –  £17.50
THIS PRODUCT!
I struggle with finding concealers that even get close to covering up my insomniac, dark circles under my eyes and have tried my good share of concealers, but this one is perfect for me!
Yes, it's more on the pricey side but it's worth it.
The product itself is thick but feels light on the skin. When blended out with a damp sponge you get the full coverage and it then blends into the skin and foundation a lot more. It has to be the best concealer I have found so far! It stays on my face all day and is not as cakey as the products I've found in the past. Make sure to set the concealer with loose or pressed powder for longer wear.
Rating: 4.5/5
Powder: Collection Sheer Loose Powder, 2 Translucent – £2.99 
This is a good product. It does what I want it to do. It's light, easy to apply and doesn't get patchy or clumpy. It's such good value too.
It seems to stay better on your skin if you apply with a damp brush or sponge. Like the Rimmel London foundation, it seems to slide off of your skin if applied with a dry applicator or just during the day in general.
MAC concealer and the Collection Sheer Loose Powder work well together.
This product is so FINE though so be careful when applying as it gets EVERYWHERE!
Rating: 3.75/5
BB Cream: H&M Beauty Balm Rose Porcelain – £6.99 
I'm a strange human and use this to contour my temples and cheek bones.
It works a charm but of course it's not as bold as a contour stick or cream that you get in a palette. It's subtle and works well with what I use it for, darkening the areas I'm going to go over with my bronzer.
For the price it is a good little product, and easy to get at your local H&M. It's easy to apply and easy to blend with a brush. It stays on your skin all day and holds your bronzer in place so it works for me and I really like it! I'd be happy to try out another once this product runs out of course, but at the moment I'm happy with my tube of Beauty Balm.
Rating: 3.75/5
Bronzer: Bonrjois Paris Bourjois Délice de Poudre bronzing powder & highlighter – £7.99
I'm pretty sure I've had this palette since 2014 and I still have not run out of the product inside! It's incredible.
I used the bronzer side for my look today.
I only have to use a small amount as the colour is bold and thick. I have to be careful I don't muddy up my cheeks bones with the powder, it's that pigmented.
As you can see by the photo below, it stay on your face very well throughout the day…
But make sure to use a good brush and foundation so the bronzer still looks natural even at eight o'clock in the evening after applying it at noon…
I do love this product and would definitely buy it again for it's pigment and great price, but of course I will also look at other product because I'm sure some people will agree with me when I say, it's not the best colour for my fair skin tone.
Rating: 4/5
Highlighter: Benefit High Beam Highlighter – £19.50
I'm just going to put this out there… I love highlighters! (As in makeup highlighters… don't get smart with me!) I just love their shine and what effect it does to the face. I can't wear a full face of makeup without having highlighter making my face shine as bright as the sun!
This highlighter is one of my favs! I love it to pieces.
For my birthday, I was lucky enough to get this beauty as a present from one of my sisters and oh my days, my makeup look is never complete without the High Beam!
I always blend out the product after applying, with a damp sponge, rubbing the product into the top of my cheek bone and up towards the temples. It shine and shines… I love it! Have yet to find a highlight I'm not obsessed with if I'm honest…
Rating: 4.5/5
Makeup Revolution London Highlighter Palette Beyond Radiance – £8.00 
To complete my highlight I used the middle shade, dusting the powder over the High Beam to give my face an extra glow. I told you I love my highlight…
This product is so very powdery, but so very beautiful. The colours are good with every skin tone and have a subtle, yet gorgeous shimmery shine to them. I'm happy using any one of these shades to complete one of my looks.
The Revolutions palettes – you guys with learn – are one of my weaknesses. I love them to bits!
Rating: 4/5
Cheeks: Natural Collection Blushed Cheeks Sweet Cheeks – £1.99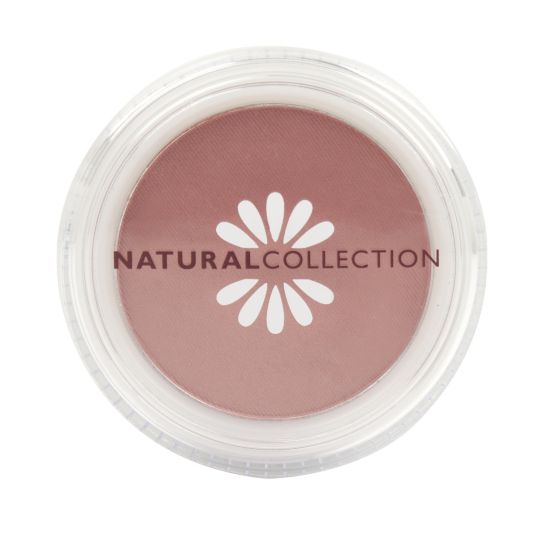 Now, I've had this product for years… and frankly, it's because I never use it.
Blushes in general never seem to fit well with my complexion or makeup looks and always make me look clown-like or sunburnt.
This product is pigmented, yes, but a little too pigmented. I put it on a brush or my finger – a small amount, I may add – and yet when I put it onto my face it will not blend, it will not dust, it will either just stay on the brush or dab off of my fingers or blotch onto my skin. It never looks natural. It doesn't help that this shade is not good for my skintone though, either.
I'm just not a fan of this product.
I'll never stop looking for the perfect blush. I know it's out there somewhere… *sigh*
Rating: 2/5
Eyes:
Eyeshadow: Makeup Revolution Ultra Professional Eyeshadow Flawless – £8.00
Love love love Revolution palettes!
This one is gorgeous and I use it A LOT to complete my eye makeup on a day to day basis.
For today's look I used the colours Highlite, Almost There, Uncover, Brew and Night.
This palette's products stay on a long time and rarely fade off until I have the makeup remover on my eyes for the end of the day. There can be a lot of fall-out when using the eye shadows so it's good to tap you brush a couple of time to get off all of the residue before applying the colour to your eyelids. You don't want you concealer or highlighter all covered in multicoloured eye shadow after all of your long, hard work!
I love this palette; the colours, the longwear of the product, the shimmer shades, the matte shades. Oh so much love!
Rating: 4/5
Mascara: L'Oreal Paris Superstar noir/black – £10.99 
This stuff is magical.
You first apply the white coat that seems to make your eyelashes grow twice in size! And then you apply the black coat that finished the look. It's brilliant.
Out of my collection of mascara – which is quite big! – it's not my all time favourite mascara, but it is up there. The finish result is stunning and fascinating, truly… but it's not something you can whip on in a hurry. You need to concentrate while applying to make sure the product doesn't make your eyelashes clump, otherwise your mascara will look all goopy and stuck together and that's not a very good look in my opinion…
When applied well, the result it beautiful, really causing your lashes to look pushed up and long. It does not however, give the false-lash-effect that I've already said, only fake lashes can give. I am yet to find that one mascara that gives me the look of false lashes without even wearing, the false lashes.
Rating: 3.75/5
Eyeliner: Rimmel London Exaggerate Eye Liner 001 – £5.29
I'm going to start by saying the formula is spot on! It's longwear and stays on very well during the day (unless you sleep on it or have sex wearing it). It's thick, it doesn't cake, it's easy to apply and doesn't streak.
BUT…
The brush that is given with it.
No, no, no! I can't get a thin line with this brush. There is no angle. The brush does not move and I can't get a good cat-eye using the brush either. And before anyone says it's my makeup skills, I've mastered the cat-eye using other products before. I know I shouldn't blame my tools, but trust me, I will with this one.
This product has so much potential if only they sorted out the brush that comes with it.
Personally I think, if Rimmel London used the MUA eyeliner brush, all problems would be solved.
For the formula I would give this product a good rating, but the brush means it's difficult to properly use and sort of ruins it for me…
Rating: 3/5
Brows: Eylure Shape & Shade Brow Pencil and Tamer – £5.39
The one I found on the internet and the one in the picture look completely different so the price may be wrong. If so, let me know. I truly apologise if it is!
I've used this product on my brows for a while. This product and only this. I comb through my brow, shade in my brow, brush the product into my brow again and then that's it. If I'm honest, that works for me. I'm yet to try all new brow kits, but I haven't had the time or the money to grab any, although I do always look at the kits whenever I'm shopping and wonder 'Today?' and then think against it.
I really like this product as it does what I want it to do. The shade for needs to be blended as it's not that accurate to my hair colour, but I'll wait until the pencil is finished before looking around for something new.
There's nothing bad to say about it if I'm honest.
I'm pleased with it.
Rating: 3/5
Lips:
Topshop Lips Sweet Orchid – £8.00
GORGEOUS COLOUR! But rubs off way too easily.
I find whenever I wear this colour I have to reapply it after eating, drinking or kissing. It doesn't take a lot of product to cover my lips as its pigmented, but I'm always scared this lipstick is going to run out quickly from all of this applying!
I do love Topshop Lipsticks though and need to buy some more.
Sweet Orchid is a lovely creamy lilac and so soft on your lips.
A definite recommend if you're daring enough.
Rating: 4/5


Thursday:
So Happy with my makeup today! It stayed on my face all day! *cue photos from the end of the day*
Yes I am wearing pyjamas in the second set of photos…
I have college today and then had a job interview so I wanted to make sure I looked good and wanted to use products I hoped would remain on my face!
Face:
Primer: Benefit POREfessional face primer – £24.50 
I have a sample of this so I haven't splashed out just yet on the full product (yet).
The formula for the POREfessional is so creamy and soft, it seems to just melt into your skin. It primes the face well and does cover pores to an extent, but not so much that your face looks naturally photoshopped. As this product gets well into your skin, I would recommend cleansing your face with a face scrub after you've taken off your makeup for the day, otherwise there is a risk of you breaking out in little face demons, and no one wants that.
I love Benefit's packaging in general as it looks so american 1950s-60s; vintage as some might say. But recently I've noticed they've changed some of their products to look more modern. I'm all down for change if it's something they want to do, but I'll miss the vintage-y look that they have going on with some of their more classical products.
Rating: 4/5
Foundation: MAC Cosmetics PRO LONGWEAR SPF 10 FOUNDATION NC20 – £25.50
This is a VERY pricey foundation, for my usual shop that is. Thankfully for me though my only three MAC products were a gift from my parents for my birthday, saving me a lot of money. Thanks again mum and dad!
Ignoring the price, this foundation is so good! It stays on your face all day; it has such good coverage. I only have to dab a tiny bit of product onto my cheek for it to spread out all over the side of my face when I blend it into my skin with a brush. The foundation is a little shiny though so if you like matte/ish foundations, still buy this one, but go over the top of the base coat of your face with a light feeling, pressed or loose powder.
I would definitely recommend this foundation! I love it and so far have not found any other foundation like it!
Rating: 4/5
Concealer: MAC Cosmetics Pro Longwear Concealer NW20 –  £17.50
I've already talked about this product, so look above if you forgot.
Powder: Collection Sheer Loose Powder, 2 Translucent – £2.99 
BB Cream: H&M Beauty Balm Rose Porcelain – £6.99 
Bronzer: Bonrjois Paris Bourjois Délice de Poudre bronzing powder & highlighter – £7.99
I only used the bronzer side again.
Highlighter: Benefit High Beam Highlighter – £19.50
Makeup Revolution London Highlighter Palette Beyond Radiance – £8.00 
Eyes:
Eyeshadow: Ultra 32 Shade Eyeshadow Palette AFFIRMATION – £8.00
I do love this palette! Just like the other one there is such a wide range of colours for such an affordable price. The product stays on your eyes all day and are such vibrant shades! Along with the Flawless palette, this has got to be one of my favourite eye shadow palettes in my collection.
For this look I used the shades Pledge, Vow, Affirmation and Declare.
Eyeliner: Rimmel London Exaggerate Eye Liner 001 – £5.29
MUA Liquid Eyeliner Shade 5 – £2.00
I used thr MUA eyeliner for the inner corner of my eye and the Rimmel London eyeliner for the outer corner and the flick. I like using this combination of eyeliners to get the perfect cat eye for me.
Mascara: They're Real! Lengthening Mascara – 19.50 
I really like this mascara! The brush is perfect for you eyelashes to make sure they don't clump together because of the product. It's quick and easy to apply. To give your lashes a long, voluminous look it's better to use two or three coats of this product on your eyelashes although the formula is thick so be careful whenever applying, that the product does not bunch your eyelashes together with the more coats your give.
The formula is not heavy on your eyes and has a silky feel to it.
Rating: 4/5
Lips:
Lipgloss: Max factor X COLOUR ELIXIR GLOSS Lustrous Sand – £8.99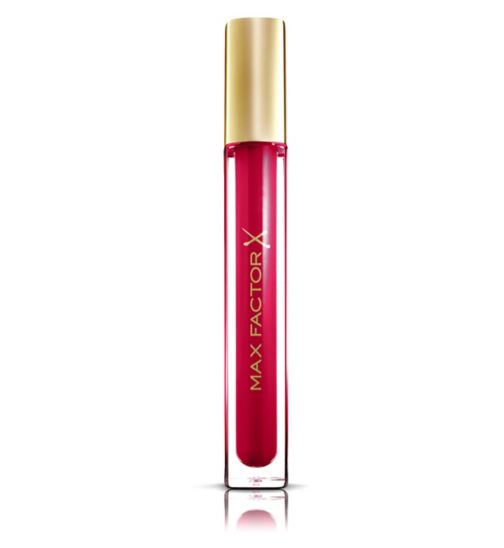 This is such a thin product! When I apply it, I don't even see the product on my lips.
If you like lip products that just give your lips a shine then this is the product for you, BUT if you want a product that actually gives your lips a new colour and completes your look, this is NOT the product for you. There is just no real colour too this product at all.
It may just be the lip gloss shade I have that does this however. I'll probably buy another Colour Elixir Gloss but in a different shade to see what the outcome then.
I do like wearing this product to give my lips some shine, but not for the colour. This product does fade or rub off quite quickly after applying so you need to keep applying the product if you want to wear this all day, but usually I just top up with a lip-balm which pretty much does the same thing as the product, just with moisturiser.
Rating: 2/5
Friday:
Again, I just went for another day of just eyeliner and mascara.
Today was a lazy day with the boyfriend, watching American Horror Story and playing Xbox. The usual. Plus, quite a bit of sleeping, so I knew that I'd probably sleep all of my makeup off if I wore my usual amount.
Eyeliner: Miss Sporty Kohl Eye Pencil Magic Spell 1 – £1.99
Does the job and is a good, bold, thick product but smudges so easily.
During the day the product just fades and after a couple of hours it looks as if you just have black smudges over your eyelids and under your eyes and looks quite messy. It's good for a lazy day and if you just want to just bigger your eyes, but I would not recommend this product for a fancy look. If you wear this just on the waterline of your eye, be sure to check that it hasn't smudged under your eyes every so often, otherwise you may end up looking like a panda, which I definitely did on my way home from my boyfriend's, on the train.
Mascara: SEVENTEEN Va Va Voom Mascara – £6.29 
This is my comfort mascara. I go to this mascara quite a lot when I need something easy and quick to put on. It stays on and does as it says it does. My eyelashes don't clump with this product. They don't thicken or increase in volume, but they will darken and seem longer.
It's not the best mascara, but I will definitely use it for a quick grab/travel mascara/comfort mascara. For that I won't give it a low rank. I have used this mascara a lot and have emptied it quite a few time, needing to buy a new one a couple of times now.
Rating: 3/5
So that has been my weekly makeup Lookbook from Monday-Friday. 
If there are any makeup products you suggest I try or want me to review, leave it down in the comments. I will surely give them a look. 
Tune in every week for a new weekly makeup Lookbook!